Photo Challenge time!! This time i entered the
'Finagle a Foto Challenge'
from over at
Happy Jax
blog!! This weeks theme is
'Scavenger Hunt'
and i gotta tell ya, i had
FUN
!! With help from Hubby
(instructions on camera use)
, i tracked down all the focus points and went nuts!! :)
1# Blue
Monkey bum looking gorgeous in blue!! (And chewing on EVERYTHING with his new tooth!!)

2# Light
The sun setting out our kitchen window....yeah, need to clean those!! (Love trying to play with Light!!)

3# Smell the Roses
Hubby taking time to 'smell the roses' with monkey bum!! Love watching my boys play!!
4# Shadows
I felt pretty sneaky stalking some shadows!! The blinds in the spare room cast some pretty neat shadows!!

5# Time
Love my work watch!! There's only so many ways to flash up scrubs, so i love the wee ray of light this smiley-face watch brings!! (And it was only $10!!)
So there ya go!! Go check out the other Scavenger Hunt entries or join in the fun!!!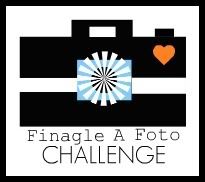 Toodles!! :)


'Live for a Life Without Regret'